I will Praise your name for ever, Lord! Happy and Blessed Thanksgiving!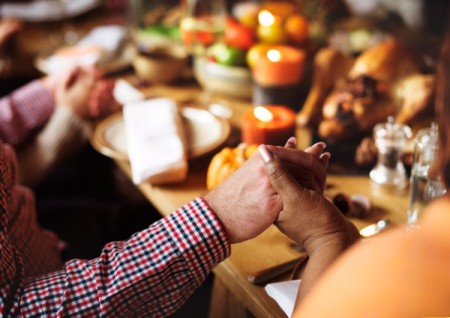 Dear Friends,
As you ready your homes to welcome and receive loved ones, may you experience a profound gratitude for God's abundance and blessings in your lives. As today's Responsorial Psalm reminds us…"I will praise your name for ever, Lord." Indeed, Thanksgiving is celebrated each and every day and most importantly, the ultimate expression of "Thanksgiving" is found in the Eucharist. In preparation for your gatherings, we share the readings and a prayer below to bless your dinner on Thanksgiving Day.
Dear Lord,
bless this gathering of loved ones,
and help us to be ever thankful 
for your bountiful blessings 
now and throughout the year.
Let this feast remind us of our duty
to the well-being of others.
Guide us in serving faithfully and selflessly those in need.
We ask that your presence increase our gratitude for the care, companionship, and comfort that our friends and family provide.  And may we always remember that our relationships in this world are but a reflection of your never-ending love.  Amen.  
(taken from Notre Dame Book of Prayer, pg 141.)
On behalf of our OECM team, we wish you, your families and loved ones a blessed Thanksgiving. We are particularly grateful for your generosity and service to our local church in San Diego and Imperial counties.  You will remain in our thoughts and prayers.
With Grateful Hearts,
OECM Team
Marioly Galván, Joseph Horejs, Leticia Trent,
Lisa Vaca and Lupita Pérez
OECM News