05/02/2019
9:00 am - 11:15 am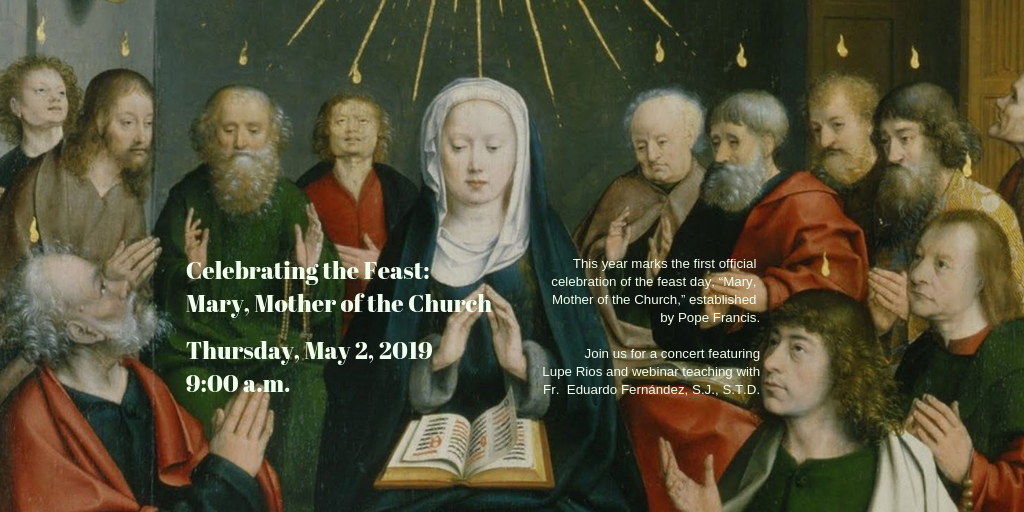 Diocese of San Diego Pastoral Center
3888 Paducah Dr
San Diego, CA 92117
This year marks the first official celebration of the feast day, "Mary, Mother of the Church," established by Pope Francis.  Join us on Thursday, May 2, 2019, for a concert featuring Lupe Rios and a webinar teaching with Fr. Eduardo Fernández, S.J., S.T.D.  The event begins at 9:00 a.m. and lasts until 11:15 a.m. and will be held here at the Diocesan Pastoral Center, 3888 Paducah Drive, San Diego, 92117.
Fr. Eduardo C. Fernández, S.J., S.T.D. is Professor of Pastoral Theology and Ministry at the Jesuit School of Theology for Santa Clara University's Berkeley campus.  In addition to teaching, Fr. Fernandez recently served as president of the Academy of Catholic Hispanic Theologians of the United States (ACHTUS) and has authored several books, including La Vida Sacra: Contemporary Hispanic Sacramental Theology (Rowman and Littlefield, 2006) with James Empereur, S.J.; Mexican-American Catholics (Paulist Press, 2007); La Cosecha: Harvesting Contemporary U.S. Hispanic Theology (Collegeville: Michael Glazer, 2000); and U.S. Catholic Hispanic Trends and Works (University of Scranton Press, 2002) with Kenneth Davis and Veronica Mendez. He has also published articles for theological publications and collaborates with several local diocesan lay institutes.  For more information please visit https://www.scu.edu/jst/about/people-of-jst/faculty/eduardo-c-fernandez-sj-std/.
Musician, Lupe Ríos was born in Ciudad Guzmán, Jalisco, México.  He attended the University of Washington and studied Political Theory and Political Economics with minors in Human Rights, Religion, and Music.  He has served as the Director of Worship for Mission San Luis Rey Parish in Oceanside, CA and is currently Director of Music at Mary, Star of the Sea Catholic Church in La Jolla, CA, and continues to be involved in various music projects, including composing and recording.  He has albums available and more information on his website, https://www.lupedifranco.com/.
There is no cost to attend.  Please RSVP to Lisa Vaca at 858-490-8230 or Lvaca@sdCatholic.org or fill in the registration form below
[contact-form][contact-field label='Name of Attendee' type='name' required='1'/][contact-field label='Email' type='email' required='1'/][contact-field label='Address' type='text' required='1'/][contact-field label='Which parish or school' type='text' required='1'/][contact-field label='Ministry or grade level you teach' type='text'/][contact-field label='For which event are you registering?' type='textarea' required='1'/][/contact-form]