01/26/2019
9:00 am - 3:00 pm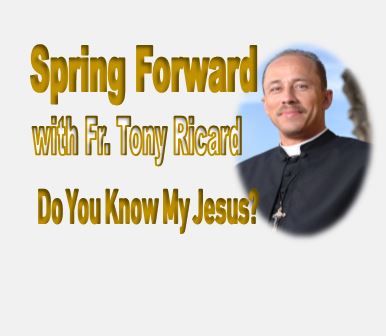 Map Unavailable
Good Shepherd Parish
8200 Gold Coast Drive
San Diego, CA 92126
Join the Office for Evangelization and Catechetical Ministry at our annual Catechetical Mid-Year Conference, Spring Forward 2019, featuring Fr. Tony Ricard.  See event flyer here.
As a Christian Community, we fully believe that the day is soon coming when Jesus Christ will return to usher in the final days of the earth.  Though we do not know the exact time or place, we do know that he is coming back soon.  Therefore, we must implore everyone to live their lives as if today was that day.  Rather than thinking that we still have time, we ought to be thinking that it is already Midnight.
Spring Forward 2019 flyer and description [contact-form to='lvaca@sdcatholic.org' subject='Question About Spring Forward 2019′][contact-field label='Name' type='name' required='1'/][contact-field label='Email' type='email' required='1'/][contact-field label='Comment' type='textarea' required='1'/][/contact-form] Lunch will be included for all attendees.  No at-the-door registrations can be accepted so please be sure to register online now.  Tickets are $35 per person and are only available by online purchase.  Please click this link to purchase your tickets today, as this event will certainly sell out and space is limited: www.sdcatholic.org/springforward
Spring Forward, 2019, with Fr. Tony Ricard will take place on Saturday, January 26, 2019 starting at 9:00 a.m. and lasting to 3:00 p.m. at Good Shepherd Parish, located at 8200 Gold Coast Drive in Mira Mesa.
For questions, please contact Lisa Vaca at Lvaca@sdcatholic.org or 858-490-8230.
See event flyer here.