02/01/2020
9:00 am - 2:00 pm
Map Unavailable
St. Mary
795 S La Brucherie Rd
El Centro , CA 92243
Join us for the first ever SPRING FORWARD mid-year catechetical conference in the Imperial Valley: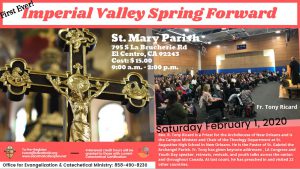 Featuring Fr. Tony Ricard of the Archdiocese of New Orleans.
Rev. R. Tony Ricard is a Priest for the Archdiocese of New Orleans and serves there as the Campus Minister and Chair of the Theology Department at St. Augustine High School and is also the Pastor of St. Gabriel the Archangel Parish.  Fr. Tony has given keynote addresses at LA Congress and Youth Day, and has taught at retreats, revivals, and youth talks across the U.S., Canada, and throughout the world.  At last count, he has preached in and visited 22 countries.
Saturday, February 1, 2020, 9:00 am – 2:00 pm

St. Mary Parish, 795 La Brucherie Road, El Centro, CA 92243
Four renewal credit hours will be granted to those with current Catechetical Certification.
COST:
$15 per person
You may pay by mailing a check or money order along with your registration form, or by telephoning our office with your credit card payment after completing the online registration form below.
If you are paying by check or money order, please make it payable to "Diocese of San Diego" and mail to:
Diocese of San Diego
Attn: OECM
P.O. Box 85728
San Diego, CA 92186
If you wish to pay by credit card over the phone, please telephone:
Lisa – 858-490-8230 (english)
Lupita – 858490-8232 (bilingual)
To pre-register, please fill out the online registration form below or print and mail the registration flyer attached here: IV Spr Fwd Registration 2020 or simply email your complete registration info to: Lvaca@sdCatholic.org.  Please call 858-490-8230 with any questions or to pay by credit card after submitting your online registration info.